"Energy Transition and Energy Democracy in East Asia" (Springer), edited and contributed by Jusen Asuka (Director of ISEP), and Tetsunari Iida (Founder & Chairperson of ISEP) and Hiroshi Sasaki (Director of ISEP) has been published in English.
This book is open access, so you can download PDF and EPUB for free. Please order the paper version directly from Springer's website (softcover 5,719 yen (tax included), hardcover 7,149 yen (tax included)).
Introduction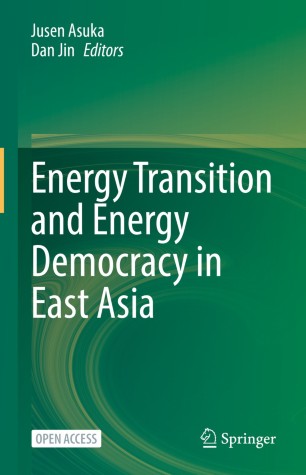 The subject of this book is to provide down-to-earth information on what kind of actions are being taken by the Government, Local community, Businesses, Researchers, NGOs on the energy transition in this region. It gives an updated picture of the energy transition in the East Asian countries, where the economic growth, as well as CO2 emission growth, is significant.
This book focuses not only on the technological perspective of the energy transition but also on the relationship between democracy and energy transition. Readers of this book can understand what kind of international support and pressure is needed to promote the energy transition in this region.
Since energy transition is needed not only for combatting climate change but also for the Green Recovery from the COVID-19 pandemic, publishing this book is very helpful to promote the Green Recovery and the Green New Deal world-widely.
Keywords
Climate Change, Renewable energy, Green recovery, Green New deal, Environmental governance, International cooperation, Policy formulation process,s Role of the media
Editors
Jusen Asuka (Center for Northeast Asian Studies , Tohoku University, Sendai, Miyagi, Japan)
Dan Jin (Center for Northeast Asian Studies , Tohoku University, Sendai, Miyagi, Japan)
DOI
https://doi.org/10.1007/978-981-19-0280-2
Table of contents
Front Matter
1. Challenging the Transition of Civilization: Theory and Practice of "Energy Democracy" / Hiroshi Sasaki
2. How to Overcome the Combination of Crises? / Tetsunari Iida
3. Energy Democracy for Energy Transition in South Korea?: Focusing on Politicization of Media / Sun-Jin Yun, Seunghyeok Ahn, Regina Yoonmie Soh
4. China Mainland's Energy Transition: How to Overcome Financial, Societal, and Institutional Challenges in the Long Term / Jiaqiao Lin, Ang Zhao
5. Energy Democracy and Energy Transition in Taiwan / Tze-Luen Lin, Fang-Ting Cheng
6. Japanese Green New Deal to Bring Happiness and Prosperity / Jusen Asuka
7. Transboundary Cooperative Governance Toward Energy Transition in East Asia / Kenji Otsuka